Avant tout, nous tenons à remercier notre partenaire Gamesplanet, grâce à qui, nous avons pu nous procurer COD Black OPS 3 et vous fournir ce test.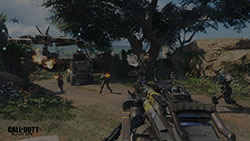 Nouveau né de la série annuelle COD, Treyarch nous plonge dans un univers futuriste avec Black Ops 3, à l'instar d'Advanced Warfare au sein duquel vous serez amené à combattre aux côtés de Taylor, inspiré (ou incarné, au choix) par l'acteur Christopher Meloni (vous savez, l'inspecteur Stabler dans NY unité spéciale).
Black Ops 3 vous met aux commandes d'un héros ou d'une héroïne, que vous pouvez choisir et à peu près personnaliser afin de déjouer différents complots en sachant (sans trop spoiler) que vous allez être opérer pour devenir à moitié un robot après une expérience (assez) traumatisante.
La campagne est truffée de séries d'explosions en tout genres, de scripts d'IA pas toujours cohérents mais surtout d'un dynamisme assez entrainant qui vous pousse à vous amuser sans relâche malgré un scénario assez particulier avec des airs de film de science-fiction, qui plaira ou non selon les goûts !
La durée de vie du solo ne change pas vraiment comparé aux différents opus, mais les plus téméraires y reviendront sans hésiter pour débloquer tous les différents objets à dénicher au long de la campagne, ou encore pour s'essayer au fameux mode cauchemar, débloqué après avoir terminé le jeu. Cela ajoutant une certaine rejouabilité à un mode souvent délaissé par les joueurs une fois accomplie une première fois.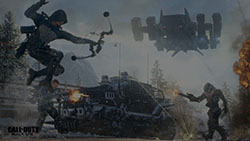 Treyarch prend le parti de vous offrir une expérience nouvelle avec un gameplay toujours aussi fluide et prenant, mais en y ajoutant des sortes de nouveaux « pouvoirs » du à votre transformation au début de l'histoire. Ne rendant aucunement le jeu facile, ces « pouvoirs » s'intègrent parfaitement à l'univers du jeu très futuriste où l'ère du digital est au centre avec des robots, des IA etc. Cela permet d'orienter le jeu sur un futur réaliste et envisageable, en théorie.
Au niveau de la difficulté, on a trouvé qu'elle était assez mal gérée, l'IA peut être très forte ou très passive, tout en restant sur le même mode de difficulté, ce qui peut être assez frustrant par moment. Mais en soit, cela n'est pas très gênant, pour peu qu'on aime le challenge.
La direction artistique choisie pour le titre est très bonne, si les graphismes dans leur ensemble ne sont pas spécialement ce qui se font de mieux, l'ensemble est cohérent et truffé de détails. Le jeu arrive à se créer un univers qui lui est propre, avec une UI parfaitement maitrisée, très intuitive, que l'on soit au combo clavier/souris ou manette. L'ambiance sonore est en parfaite harmonie avec cet univers futuriste dans lequel on s'immergera assez aisément.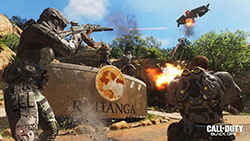 Mais un Call of Duty n'en serait pas un s'il n'avait pas son mode multijoueur. Principal intérêt pour certains, et très certainement le mode sur lequel la grande majorité des joueurs se retrouveront. Pour notre plus grand plaisir ce mode garde tout le dynamisme de la série en y incorporant des éléments de gameplay qui lui sont propres. Différentes spécialisation, personnalisation… Treyarch opte pour que le joueur se retrouve dans des personnages de plus en plus poussés en ouvrant la voie à des éléments de plus en plus variés en gardant un tronc commun évident.
Ce mode multijoueur conserve évidemment son système de prestige, de bonus après des éliminations en séries… Sur des maps assez bien travaillées et surtout très variés. « Malheureusement », la formule étant devenue commune, plus de contenus est prévu au travers des 4 DLC du season pass tout au long de l'année.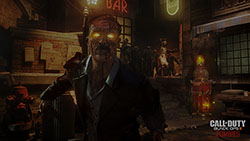 Sans doute le mode où vous passerez le plus de temps, le mode multijoueur est également agrémenté d'un indispensable mode Zombie depuis World at War, toujours aussi bien pensé, prenant et fun à jouer, avec un choix de personnalité particulièrement atypique pour ce dernier.
Enfin, sur la version PC du titre, nous avons rencontré différents problèmes d'optimisation au démarrage du jeu, des chutes d'images à une par seconde, des déconnexions durant la campagne et le multi, des bugs sur les parties zombies… Mais tout cela sera certainement corrigé dans des patchs futurs.
Pour résumer ce nouvel opus
Un mode multi toujours aussi prenant et dynamique

Des éléments de personnalisation, spécialisation de plus en plus nombreux

Le mode zombie ne sera jamais de trop

un mode solo offrant une bonne rejouabilité …
… mais qui offre une histoire assez peu motivante
Des problèmes d'optimisations sur PC

Une IA assez aléatoire et frustrante

Un désagréable sentiment d'acheter un énième COD pour les habitués
Verdict : 7/10
Treyarch nous offre un bon Call of Duty, indubitablement mieux que Ghost, avec de très bonnes idées sur le solo qui se répercutent sur le multi.